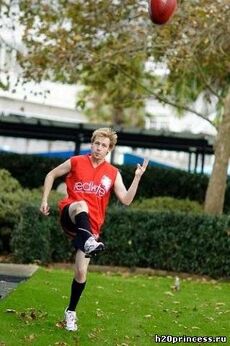 Angus McLaren (* 3. November 1988 in Leongatha, Victoria) ist ein australischer Schauspieler, der auf einer Milchfarm aufwuchs. Er ist am besten bekannt durch seine Rollen in den Fernsehserien Silversun und H₂O – Plötzlich Meerjungfrau. Er hat auch in den Serien Neighbours, Something in the Air sowie Blue Heelers mitgespielt.
Nach Amateur-Produktionen am Leongatha Lyric Theatre sowie Theaterprojekten an seiner Schule erhielt er eine wiederkehrende Rolle in der ABC-Serie Something in the Air, als er zwölf Jahre alt war. Weitere Fernsehauftritte folgten, unter anderem in der Kinderserie Worst Best Friends, in The Saddle Club und Fergus McPhail, in Blue Heelers und Comedy Inc.
Von 2002 bis 2003 spielte er die Rolle des Grundy in der Familienserie Neighbours. Seine erste Hauptrolle erhielt McLaren 2004 in der Kinderserie Silversun. Sein Spielfilm-Debüt folgte 2005 mit dem Low-Budget-Film Court of Lonely Royals. 2006 folgte die Rolle als Lewis in H₂O – Plötzlich Meerjungfrau. Seit 2008 spielt er den Nathan in Die Chaosfamilie.
2000–2001: Something in the Air
2002: Worst Best Friends, als CoxKnight
2003: The Saddle Club, als Crawfords
2004: Fergus McPhail, als Burberry
2003, 2005: Blue Heelers, als Southern Star
2002–2003: Neighbours, als Grundy
2006–2009: H₂O – Plötzlich Meerjungfrau, als Lewis McCartney
2006–2010: Court of Lonely Royals, als Lonely Royals
Seit 2008: Die Chaosfamilie (Packed to the Rafters), als Nathan Rafter
2009: Silversun
Ad blocker interference detected!
Wikia is a free-to-use site that makes money from advertising. We have a modified experience for viewers using ad blockers

Wikia is not accessible if you've made further modifications. Remove the custom ad blocker rule(s) and the page will load as expected.