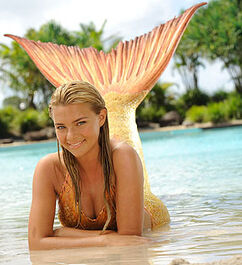 Bella ist eine neue Meerjungfrau, die ab der 3. Staffel dabei ist. Sie ist schon seit sie neun Jahre alt ist eine Meerjungfrau. Bella wurde in einer Höhle in Irland verwandelt. Sie ist ein sehr fröhlicher Mensch und sagt Dinge, ohne lange darüber nachzudenken. Sie ist in Will verliebt und versucht ihn für sich zu gewinnen. Sie trägt hauptsächlich weiße und gelbe Farben. Sie singt in der Band im "Rikki´s".
Fähigkeit von Bella Bella kann Wasser in Glibber verwandeln und es erhärten.
Ad blocker interference detected!
Wikia is a free-to-use site that makes money from advertising. We have a modified experience for viewers using ad blockers

Wikia is not accessible if you've made further modifications. Remove the custom ad blocker rule(s) and the page will load as expected.