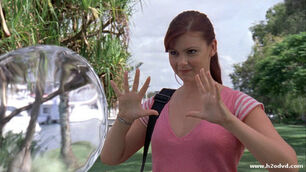 Brittany Anne Byrnes (* 31. Juli 1987) ist eine australische Schauspielerin. Ihre bekannteste Rolle war die der Natasha Grün im TV-Film Little Oberon.
Byrnes wurde ab dem Alter von vier Jahren in der Bradshaw Dancers Performing Arts Academy in Sydney ausgebildet. Bis 2007 war sie Cheerleaderin für das Rugby-League-Team West Tigers aus Sydney. Ihre erste Filmrolle hatte sie im Alter von acht Jahren in Ein Schweinchen namens Babe. Ihre größte Rolle war jedoch die der Charlotte Watsford in der australischen Serie H₂O – Plötzlich Meerjungfrau. In der zweiten Staffel spielte sie die "Bösewichtin".
Danach folgten Filme und Fernsehserien wie All Saints, Meerjungfrauen, Schwimmen im Upstream und Little Oberon. Byrnes wurde 2005 für einen AFI-Award für ihre Rolle in Little Oberon nominiert.
Ad blocker interference detected!
Wikia is a free-to-use site that makes money from advertising. We have a modified experience for viewers using ad blockers

Wikia is not accessible if you've made further modifications. Remove the custom ad blocker rule(s) and the page will load as expected.