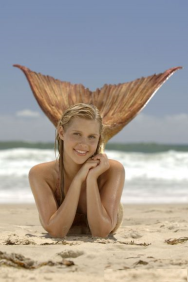 Sie ist die Vernünftigste der Truppe. Wegen ihrer Verwandlung im Wasser musste sie ihre Karriere als Schwimmsportlerin aufgeben und dies macht sie etwas traurig. Alles in allem aber empfindet sie ihr "neues" Leben aber als spannend und aufregend und hat von den Dreien die wenigsten Probleme damit. Sie findet, dass ihre Mutter eine Heldin ist, wie in der Folge Der Filmpreis zu sehen ist. Sie ist zudem sehr einfühlsam und verletzlich wie man in der Folge "Duell im Wasser" mitbekommt. Ebenfalls in der Folge Duell im Wasser bekommt sie Byron als Partner, welchen sie trainieren will, damit er nicht wie im Jahr zuvor gegen Zane wieder nur zweiter wird. Anders als Rikki ist "Em" ein totaler Familienmensch und steht ihrem kleinen Bruder sehr nahe. Sie ist eine Perfektionistin und versucht ihren Alltag möglichst organisiert zu gestalten, wie man in der Folge Miriam eiskalt sieht, wo sie den Inhaber des Juice-Net-Cafes für ein paar Tage vertritt. Sie achtet penibel auf gesunde Ernährung und bevorzugt Kleidung in blau und weiß. Sie verlässt die Serie zur dritten Staffel. Man bekommt noch mit, dass sie mit ihrer Familie eine Weltreise macht.
Fähigkeit von Emma Emma kann Wasser und auch die Flüssigkeiten eines Stoffes oder Türschlösser einfrieren bzw. erstarren lassen oder von innen aufsprengen.
Ihre verstärkte Kraft, die in der zweiten Staffel dazu kommt, ermöglicht es ihr alles, auch wenn es trocken ist, zu gefrieren. So kann sie es auch schneien lassen.
Ad blocker interference detected!
Wikia is a free-to-use site that makes money from advertising. We have a modified experience for viewers using ad blockers

Wikia is not accessible if you've made further modifications. Remove the custom ad blocker rule(s) and the page will load as expected.