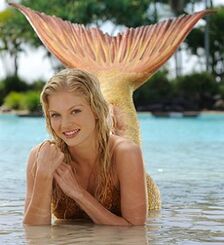 Sie ist die starke Persönlichkeit der Gruppe und "die Neue" an der Highschool von Emma und Cleo. Sie ist ein bisschen zickig und nicht sehr einfühlsam, aber trotzdem eine gute Freundin. Sie ist auch eine ziemliche Einzelgängerin. In der Schule ist sie nicht sehr gut. Anders als Emma ist Rikki kein Familientyp und Zuneigungsbekundungen bereiten ihr Unbehagen. Später zeigt sie eine gewisse Zuneigung zu Zane, den sie lange nicht leiden konnte und unterstützt ihn, damit er nicht wie die 'Bauchrednerpuppe' seines Vaters dasteht. In der ersten Staffel bleiben Rikkis Zuhause und ihre Eltern vorerst unbekannt, später erfährt man, dass sie alleine mit ihrem Vater in einem Trailer-Park lebt. Sie hat eine Vorliebe für Junkfood und ingwerhaltige Saftcocktails. Rikkis Kleidungsstücke sind meistens rot oder schwarz.
Fähigkeit von Rikki Sie kann Wasser kochen lassen oder zum Verdunsten bringen, wie man in der Folge Der Filmpreis sehen kann um dort Zane vor den Haien zu retten oder in der Folge Miriam eiskalt, wo sie Miriam wieder auftaut. Diese Kraft ist sehr nützlich, da sie sich, wenn sie sich ungewollt in eine Meerjungfrau verwandelt, selbst trocknen kann.
Rikkis verstärkte Kräfte in der 2. Staffel erlauben es ihr Feuer zu erzeugen und Blitze zu schleudern.
Ad blocker interference detected!
Wikia is a free-to-use site that makes money from advertising. We have a modified experience for viewers using ad blockers

Wikia is not accessible if you've made further modifications. Remove the custom ad blocker rule(s) and the page will load as expected.