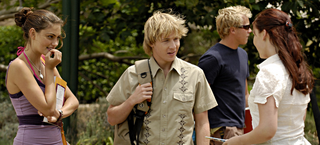 Wieder steht den Meerjungfrauen eine Vollmondnacht bevor. Doch diesmal hat Lewis eine neue Software, die ihm die genaue Zeit anzeigt, wann der Mond aufgeht. Leider hat er übersehen, dass es sich um eine koreanische Software handelt und somit die Zeitangaben nicht stimmen - mit fatalen Folgen!
Der Mond geht eine Stunde früher auf als angenommen und so stehen Emma, Rikki und Cleo völlig unerwartet im Mondlicht. Auf der Stelle geraten sie außer Kontrolle und schwimmen nach Mako Island. Lewis, der seinen Fehler zu spät erkennt, versucht das Schlimmste zu verhindern und folgt den Meerjungfrauen mit seinem Boot. Doch er kann nur noch eines feststellen: Die drei Mädchen verfügen jetzt über ganz neue, noch stärkere Kräfte!
Emma, Rikki und Cleo merken schnell, dass sie ihre neu gewonnenen Superkräfte nicht richtig beherrschen. Lewis nimmt die Sache in die Hand: Unter seiner Leitung sollen die Mädchen lernen, ihre Kräfte besser zu kontrollieren. Die ersten Versuche scheitern jedoch kläglich. Aber Lewis lässt sich nicht entmutigen.
Ad blocker interference detected!
Wikia is a free-to-use site that makes money from advertising. We have a modified experience for viewers using ad blockers

Wikia is not accessible if you've made further modifications. Remove the custom ad blocker rule(s) and the page will load as expected.